/// GM Hummer EV
C A S E   S T U D Y
Beginning in 2020, I was invited to partner with Perception to develop the UI design and animation of the interior vehicle screens of the brand-new Hummer EV by GM. Over the following year, I contributed detailed 2D UI animation, rigged vehicle driving animations, and comprehensive photo-real 3D designs and animations; most of which have been used in the final production vehicle by GMC.

One of the largest aspects of the Hummer EV I was tasked with creating was the design and animation of the interactive MODE SWITCH scenes, which get triggered in real-time in the large center-stack screen of the vehicle. When the driver turns the MODE SWITCH knob on the center console to select a different driving mode, the screen immediately shows a 3D-rendered continuous driving animation, displaying the driving mode you're currently in, and then transitions seamlessly to different scenes as the driver selects a different driving mode.

/ STYLEFRAMES
/ MODE SWITCH - DRIVING ANIMATION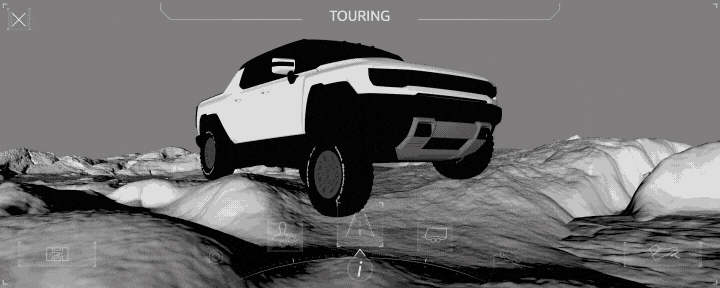 One of the most challenging aspects was creating a vehicle rig for the Hummer EV in 3D to simulate real world physics in order to animate the vehicle driving over various terrain types.

Being a car enthusiast myself, I was uniquely suited to tackle this challenge of animating the new Hummer EV in a believable way. Through much trial and error, and dialed in torque values, weight, roll bar stiffness, suspension spring and damper rates, etc., I was able to create believable off-road driving dynamics up to GM's standards.
/ FINAL ANIMATIONS

Below is a sequence of the MODE SWITCH animations I created, that are currently in the Hummer EV production vehicle.

[Particle effects designed by Isaac Taracks.]

// lance marxen sizzle reel

Below is a short sizzle reel comprised of shots I created during my time on the Hummer EV project, showcasing some of my 2D UI animation in the interior screens as well.
// REVEAL STILLS
Below are a selection of stills from shots I created for the Hummer EV reveal.

// vehicle interior shots
The Hummer EV 3D model I received from GM was just geometry, no materials or textures whatsoever. Since the vehicle was still in it's prototype phase, I had to look at various artist mock-ups from GM to see what the final materials used in the vehicle interior would look like. I then painstakingly designed and applied all the 3D materials for the interior shots of the vehicle that you see below. This allowed us to composite in our screen animations and visualize them believably within the vehicle.